When it comes to comparing iPhone vs Samsung phones, the majority of consumers have already decided on their preferred model. So iPhone vs Samsung which is better?
On the one side, you have your iPhone devotees, who have been faithful Apple customers for many years.
On the other hand, you have your iPhone critics.
On the other hand, there are Samsung aficionados who can't get enough of the tech giant's cutting-edge advances, and they're not alone.
Choosing which phone is best for an average customer, however, should not be based solely on personal preference, such as whether to buy an iPhone or a Samsung phone.
Instead, both possibilities must be weighed against one another in order to make an informed selection.
That is exactly what we will be doing in this post. Let's get started.
Apple's iPhone versus Samsung's Galaxy Note Which is preferable?
For the third consecutive year, we set Apple against Samsung in a head-to-head competition.
Because of the recent introduction of the iPhone 13, many consumers will be considering whether they should purchase one of Apple's current flagship devices or one of Samsung's Galaxy S21 variants.
Other Related Articles:
When Did the Samsung S8 Come Out?
How to Screen Mirror iPhone to Samsung TV
APPLE AND SAMSUNG SPECS REVIEWS

Price and value for money are important considerations.
The pricing disparity between iPhones and Samsung's flagship devices is perhaps the most easily discernible distinction.
Despite the fact that Apple devotees may disagree, you may believe that iPhones are expensive at first glance—especially if you are unfamiliar with the Apple ecosystem and its goods.
Samsung's flagships, while still not inexpensive, are more likely to provide you with a better value for your money than their competitors.
And, because Samsung offers such a diverse range of smartphone models, you can be confident that you will find a decent price no matter what your budget is.
However, the flawless iOS software experience and tight interaction with other Apple goods such as AirPods and the Apple Watch are the majority of what makes iPhones so valuable in the first place.
The likelihood is that once you get an iPhone, you will find yourself wanting to purchase additional Apple devices in order to get the most out of your handset.
Cameras
iPhones have traditionally received more favorable reviews than their Samsung counterparts in terms of overall camera quality, image consistency, and video quality, among other categories.
Samsung, on the other hand, has greatly improved its game with its latest S21 series, and in particular with the Galaxy S21 Ultra.
Despite the fact that Apple's consistency remains its most distinguishing feature, the photographic experience in Samsung smartphones is significantly more complex, fun, and customizable than in Apple devices
Samsung phones are the best choice for those who enjoy tinkering with their cameras and trying out new photography capabilities.
Those who prefer a more neutral image and video profile and do not want aggressive image processing algorithms to automatically modify their images and videos will find that iPhones perform admirably.
This makes them particularly well suited for professionals who edit their own images and movies and who place a high value on natural colors as well as a more dependable camera experience.
Design and Durability are important considerations.
With the exception of a revised camera module, a reduced top-notch, and a few new color options, the iPhone 13 is a perfect clone of its predecessor in terms of style and functionality.
It's a glossy glass sandwich with an aluminum chassis that comes in five colors: black, blue, pink, white, and red. It's also available in two sizes: small and large.
Apple's iPhone 13 Pro Max is given a more elegant appearance thanks to stainless steel rails and a frosted glass rear.
Colors include blue, gold, gray, and white, all of which are more muted than the other options.
While the entire Samsung S21 family has been given a facelift, the entry-level model has been given a particularly whimsical makeover.
It comes with a matte plastic back that is available in gray, pink, purple, and white.
It is also built into the metal frame, where the camera module is located.
Both the iPhone 13 and the Samsung Galaxy S21 series have an IP68 rating, which means they can resist being submerged in water for up to 4.9 feet for up to half an hour. In addition to that, there are also significant variances in durability.
For comparison, the S21 features a plastic body with a Gorilla Glass display, whereas the backplate of the 21 Ultra is also comprised of Gorilla Glass.
The displays and rear panels of the iPhone 13 and iPhone 13 Pro Max are made of Apple's proprietary Ceramic Shield glass.
Apple claims it is more durable than other strengthened glass displays, and we tend to agree, however it is significantly more prone to scratching than other strong glass displays.
There have been numerous complaints of hairline scratches on iPhone 12 models that employ the same glass, according to Apple's support forums.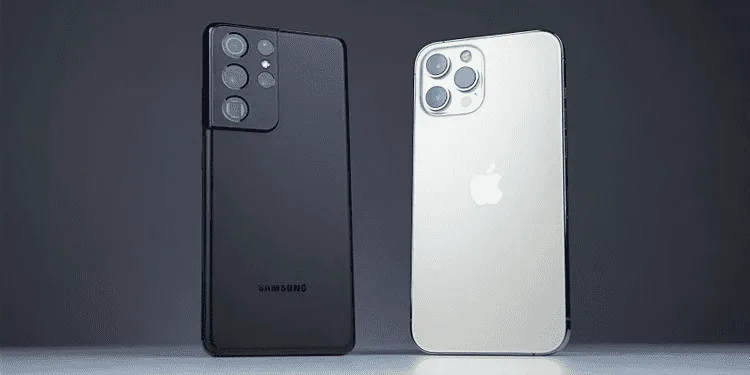 Hardware
When it comes to processing power, iPhones have had the upper hand for years, and it doesn't appear that the tide is about to turn anytime soon.
Both the iPhone 13 and the iPhone 13 Pro Max are powered by Apple's latest A15 Bionic chipset, however, the Pro models have more powerful graphics processors than the regular models.
The iPhone 13 and 13 mini are available in storage sizes of 128GB, 256GB, and 512GB, respectively.
If that's not enough, the Pro models have storage capacities of up to 1TB.
The S21 and S21 Ultra are both powered by a Qualcomm Snapdragon 888 mobile platform.
The S21 is available in storage capacities of 128GB and 256GB, with a 512GB storage capacity available on the S21 Ultra.
Apple does not disclose the amount of RAM installed in its smartphones because its operating system is more efficient than Android and requires fewer resources to run.
Even while the S21 series goes all the way up to 12GB of RAM on the Ultra model, it is likely to be overkill for 99 percent of users.
Both the Apple and Samsung flagships are equipped with more than enough horsepower to handle any work with ease.
INTEGRATION OF THE SUPPLY CHAIN
While Apple obtains high marks for supply chain management and component procurement, as well as being a chip designer, it is no match for Samsung because it must rely on Samsung to manufacture parts for its devices, which include OLED panels, NAND flash, and DRAM.
Furthermore, while Samsung uses Qualcomm Snapdragon in its phones, it also manufactures Qualcomm chips, including the newest 888. Samsung also has its own SoC, the Exynos, which it utilizes in phones sold in the global market.
So, yeah, Apple excels in this area; it receives an 8, whereas Samsung receives a 10.
APP ECOSYSTEM AND NATIVE SERVICES
In terms of the native ecosystem, Apple blows Samsung out of the water.
Samsung must rely on Google for almost everything in terms of apps and services.
So, while Google receives an 8 for its ecosystem in terms of the breadth and quality of its service offerings on Android, Apple receives a 9 since I believe its wearables services are far superior to what Google currently offers.
I believe it has a better music environment, games, and financial offerings. In some circumstances, I believe you may argue that Google's apps and services as implemented on iOS are as excellent as or better than the Android counterpart.
Samsung is getting a 6, and even so, I believe we are being generous.
PRODUCT INTEGRATION BETWEEN APPLE AND SAMSUNG
Part of Apple's charm is how readily all of its devices work together without requiring the user to do much, if anything, to get it to work.
Samsung manufactures everything from refrigerators to dryers to phones to smartwatches.
But there always seems to be something that doesn't operate properly.
Again, I believe this is due to reliance on Google for Android and Chrome OS, as well as Microsoft for Windows.
They don't have complete control over the situation.
When it comes to how well its products should be integrated with one another, Samsung likes to draw its inspirations from Apple.
However, if we consider AirPods, Watch, HomePod, AppleTV, iPhone, iPad, and Mac as a single coherent product ecosystem, Apple's stuff just simply works.
I believe Samsung's wearables story, with Gear, is currently stronger than Google's, much alone Fitbit's.
However, I continue to rate Samsung lower than Apple; it receives a 7, while Apple receives a 9.
Despite Google's weak wearable ecosystem, it compensates in other areas such as Chromecast and Home/Nest, thus I give it an 8.
One incentive to buy a phone and be confident in keeping it for two or three years is 5G support.
ECOSYSTEM DEVELOPER
Except for synergies with its own services and its Tizen OS, which is used on Gear smartwatches and Smart TVs, Samsung does not have its own ecosystem.
Everything else is dependent on Google because it owns the Android OS, hence Samsung receives a 3 in this criteria.
The business activity in both communities is significantly weighted toward iOS.
Cupertino is also far more in touch with its developer base than Google, so Apple receives a 9, while Google receives a 7.
Which one should you go with?
And then there's the question of which to choose: iPhone or Android?
Both platforms have advantages and disadvantages, and, like with many other purchases, your choice will be determined by what you value the most.
Owning an iPhone is a more straightforward and convenient experience.
In addition, because Apple's iPhone is the most widely used smartphone brand in the world, there is an abundance of assistance available wherever you go – whether you need a new battery or are simply looking for a new case for your iPhone.
In those ways, Android device ownership is a little more difficult.
At the same time, it is more liberating because it provides more options – options for how much money you want to spend, options for what hardware and software features you want, and options for how you want to organize and tailor your experience.
Android may be more liberating and dare I say, enjoyable for those who are really finicky about their technology, yet you will likely be disappointed by the dearth of high-quality apps and peripherals available for the operating system.
You can start with our rankings of the top iPhones and best Android phones if you're not sure which device you should use instead.
Whatever device you choose, be sure it is compatible with your operating system's settings before purchasing it.
Which is better, the iPhone or the Galaxy?
In terms of overall quality, both Apple and Samsung provide excellent smartphones for any budget, with some truly remarkable features in each.
In addition to the purchase of a smartphone, the after-sale service is also crucial.
In the same way that software updates are required for optimal operation, hardware updates may be required in the event that something happens to the housing or other external parts.
Because everything on an iPhone is proprietary to Apple, iPhone repair can be prohibitively expensive.
Samsung parts can be pricey as well, although the cost of repairing a Samsung device can be less than that of repairing an iPhone.
Both companies are outstanding phone providers, and both provide incredible benefits to customers who use their smartphones.
For a smartphone to be successful, it must be able to function seamlessly for its owner to utilize.
This would imply that certain requirements have been completed, and it would then be a question of whether Apple meets those requirements more effectively with their iPhone than Samsung does with their Galaxy.
The iPhone appears to be a very strong brand that produces extremely high-end handsets that are both in terms of hardware and software of the highest caliber.
The Galaxy smartphones have something to offer everyone, regardless of their financial situation or specific requirements.
At the end of the day, it is how the smartphone is utilized to its utmost capacity by the user.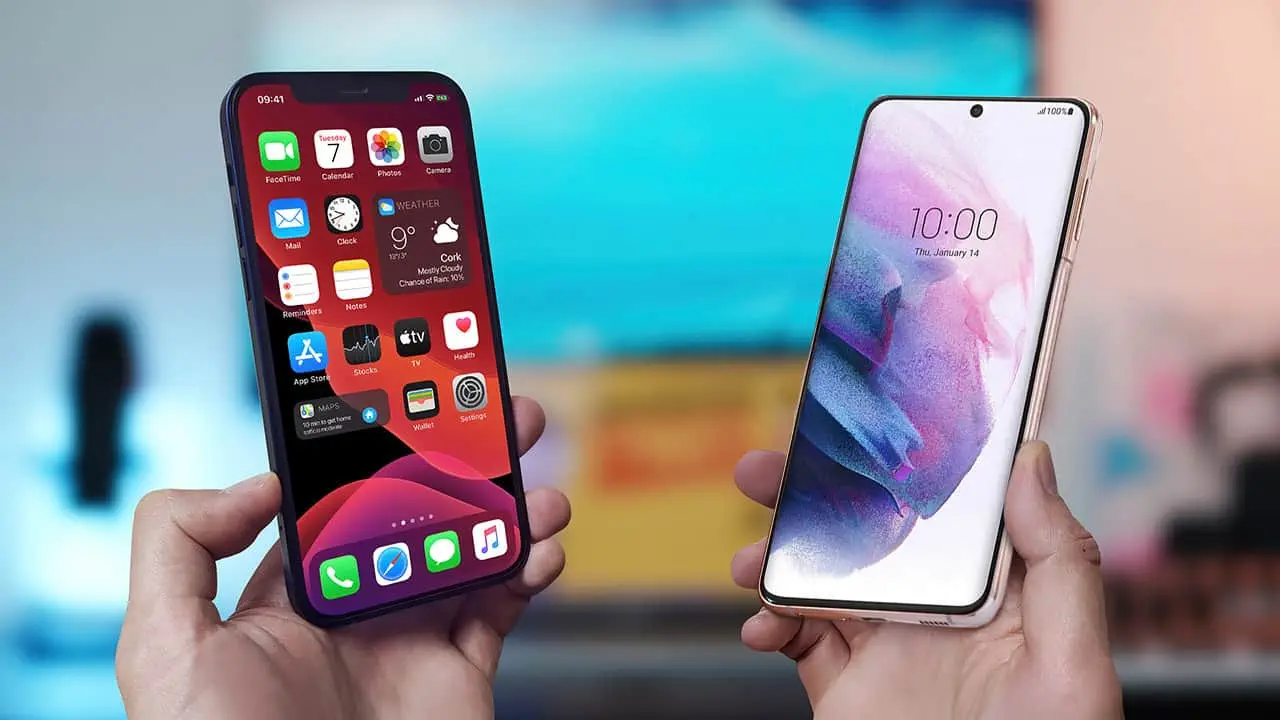 Our Final Thoughts
The two companies have the most comprehensive and integrated ecosystems, but the goal here is not to simply compare one company or product line to another and declare one superior to the other; rather, it is to present the alternatives from each side and assist those who may still be undecided in making an informed choice between a Samsung smartphone and an Apple iPhone in 2020.
Frequently Ask Questions
Is the iPhone superior to the Samsung Galaxy?
Cameras. iPhones have traditionally received more favorable reviews than their Samsung counterparts in terms of overall camera quality, image consistency, and video quality, among other categories.
Samsung, on the other hand, has greatly improved its game with its latest S21 series, and in particular with the Galaxy S21 Ultra.
Which phone has a greater battery life, the iPhone or the Samsung?
In terms of software, Apple is a step ahead of Samsung, as the company continues to release software updates for its iPhone line for five years after the device's release date, whereas Samsung discontinues the release of software updates after only two years after the release of the particular phone model.
So, certainly, an iPhone will outlast a Samsung phone in terms of battery life.
Which is preferable, the iPhone or the Android?
Premium-priced Android phones are on par with the iPhone in terms of quality, but lower-cost Android phones are more prone to malfunctioning.
Of course, iPhones can suffer from hardware problems as well, but they are generally of higher quality. Some people may enjoy the variety that Android provides, while others may prefer the greater simplicity and higher quality that Apple provides.